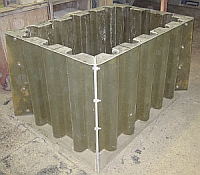 Performance Poly-Tek is an experienced custom tooling shop specializing in fiberglass, silicone, latex, thermoform, and light RTM (Resin Transfer Molding) molds. Our wide range of services enables us to quickly identify the best solutions to all your specific needs and, with our molds, turn your concepts and ideas into reality.Our highly motivated, friendly, and qualified personnel will work with you through all stages of design and production to deliver the best possible product to our customers.
Contract Manufacturing
Performance Poly-Tek is your partner of choice for many levels of contract manufacturing. We understand the importance of consistency, quality, reliability, and timely delivery for your corporate production process. We take pride in our proven experience in planning and time management as a trusted partner and outsourced supplier of manufactured parts and products.
Contract manufacturing offers an economic solution to required parts of your product line without the disadvantage of storage and overhead parts production. It can significantly free up costs and resources, including labour, raw material, equipment, and storage capacity, while allowing your business to focus on the core objective and production.
Performance Poly-Tek Customers
The list below shows a selection of satisfied Performance Poly-Tek customers for high-quality products from our production facility: